WORDY: Sabra Moore
March 17, 2022 - August 16, 2022
Opening March 17, 2022 5-8 PM
Barnard Archives and Special Collections, Hope L. and John L. Furth Archives Reading Room
423 Milstein Center, 3009 Broadway
The Barnard Archives and Special Collections are pleased to announce WORDY: Sabra Moore, an exhibition of painted and sewn wall works and artist's books from 1982-2018. Opening on Thursday, March 17, 2022, the exhibition includes 15 of Moore's pieced mixed media art works and 12 photocopier artist books dating from 1982 to 2018, with the majority from the 1980s-1990s. The works included in the show incorporate words as a central component: text, wordplays, and puns. A collection documenting Moore's work as an organizer, activist, and curator in New York City is housed at the Archives; many of the works exhibited in this show were produced during the period covered by this collection.
Sabra Moore lives in New Mexico and has exhibited extensively in New York City, Canada, Brazil, and New Mexico; her work is in the collections of the Brooklyn Museum, the Guggenheim Museum, MoMA, and the Whitney Museum of Art, among others. Moore's work engages with storytelling and quilt-making traditions; explores themes of race, class, and violence; and employs mixed mediums: books, assemblages, and Xerox art. Moore's memoir was published by NYU Press in 2016. 
Exhibition Hours: Fridays, 11AM – 5PM and by appointment (currently all visitors not affiliated with Barnard/Columbia must email archives@barnard.edu to arrange an appointment)
Selected Works | Artist Statement | Installation Images | Art for the Future | Archival Collections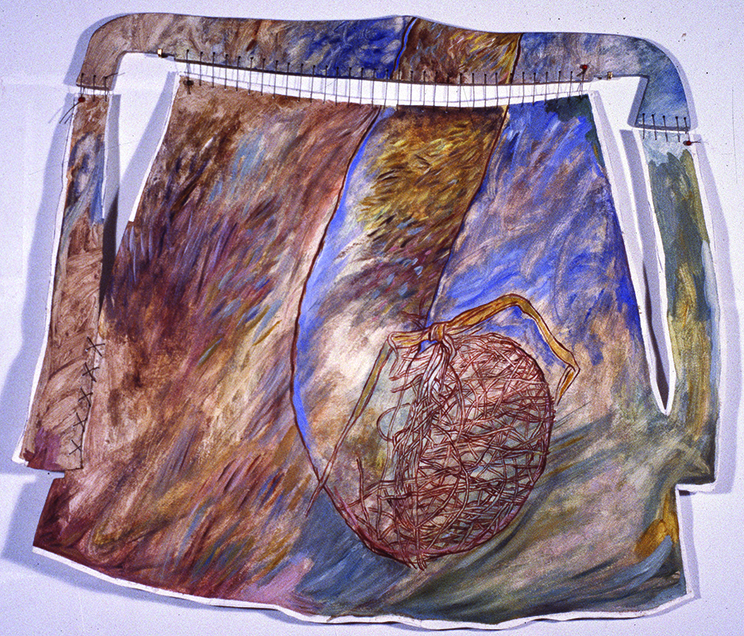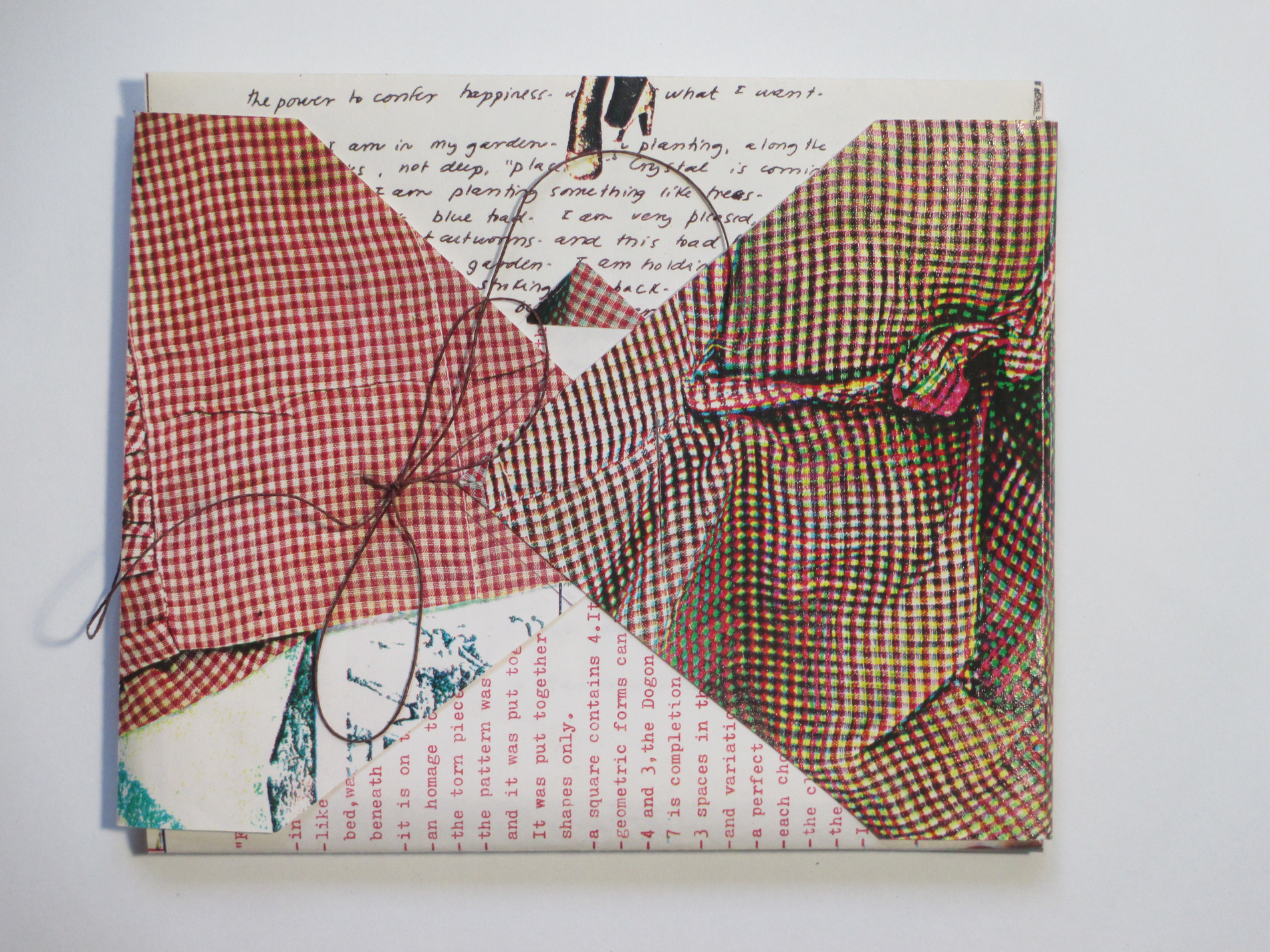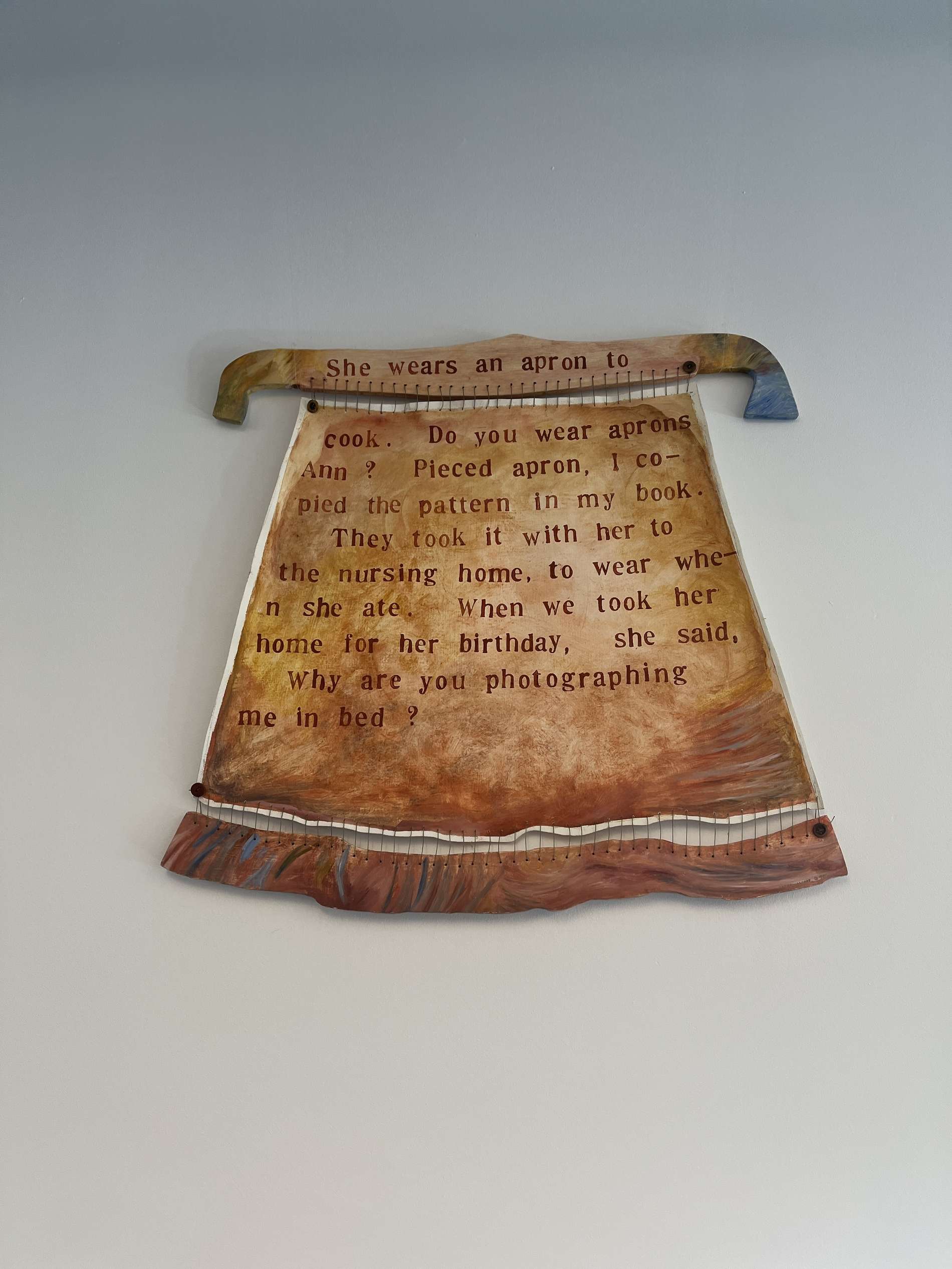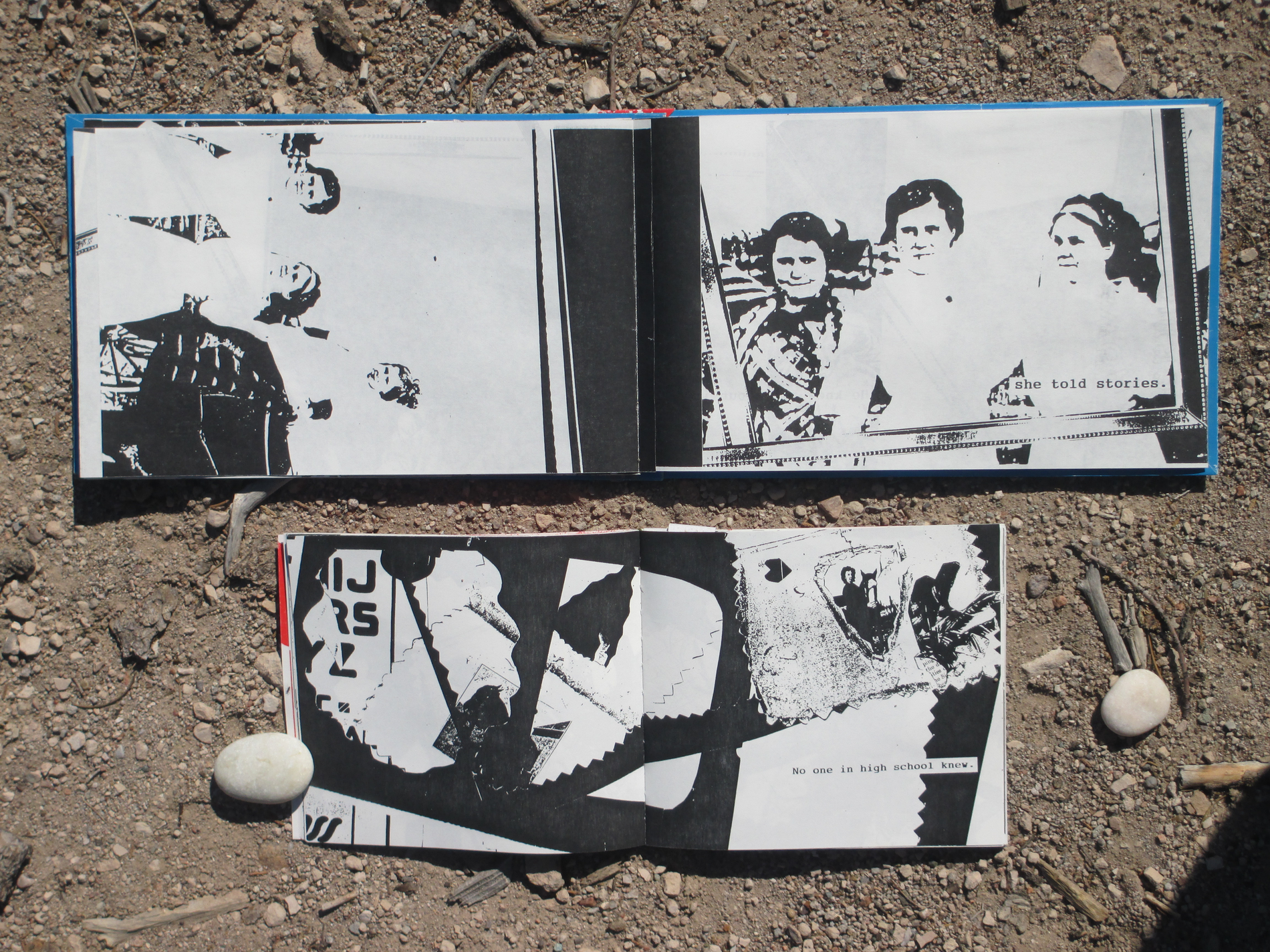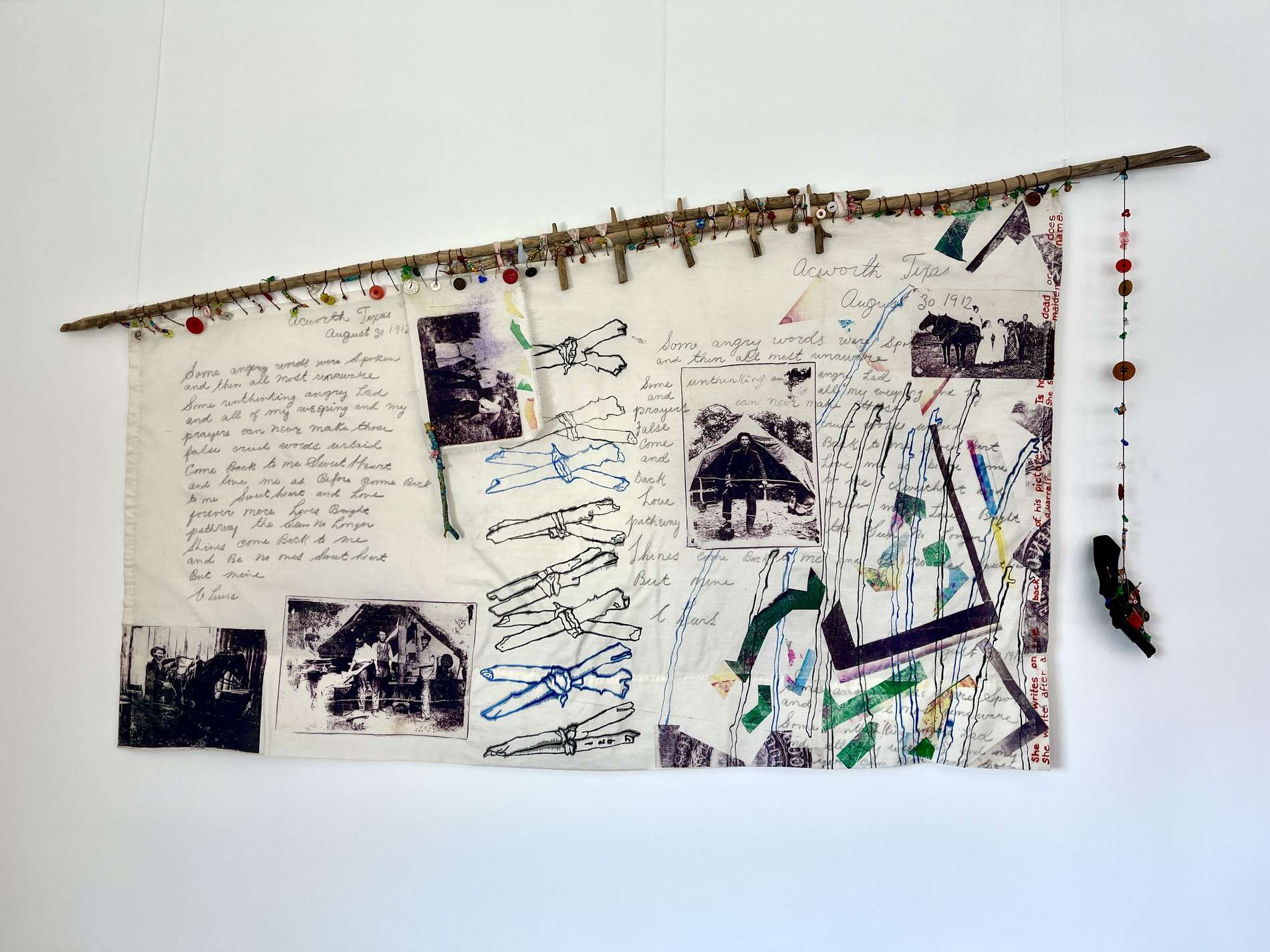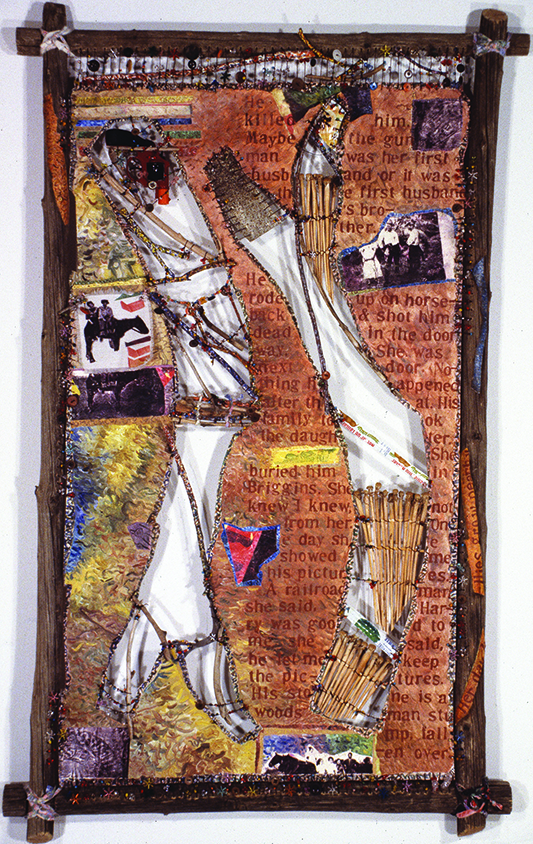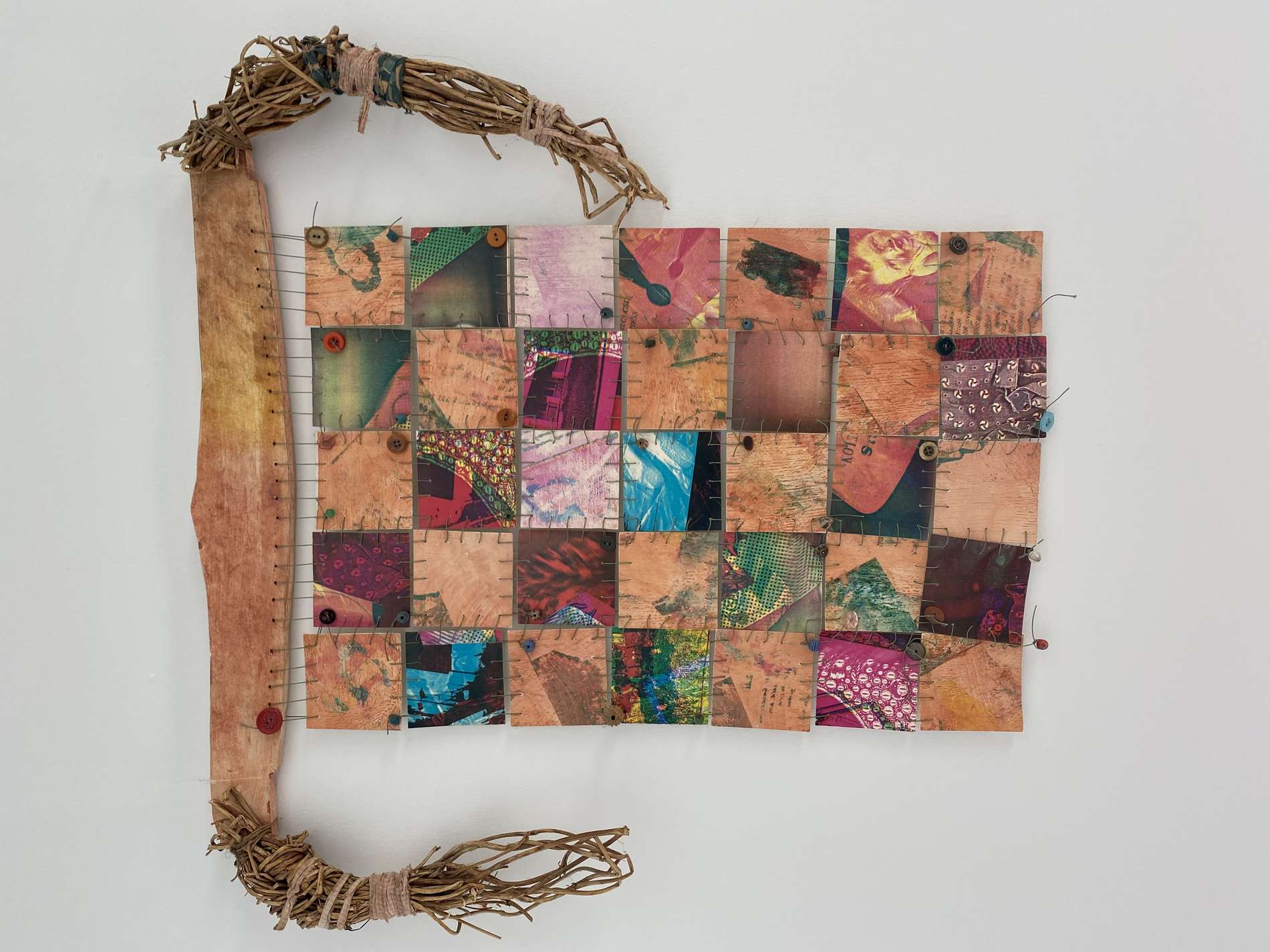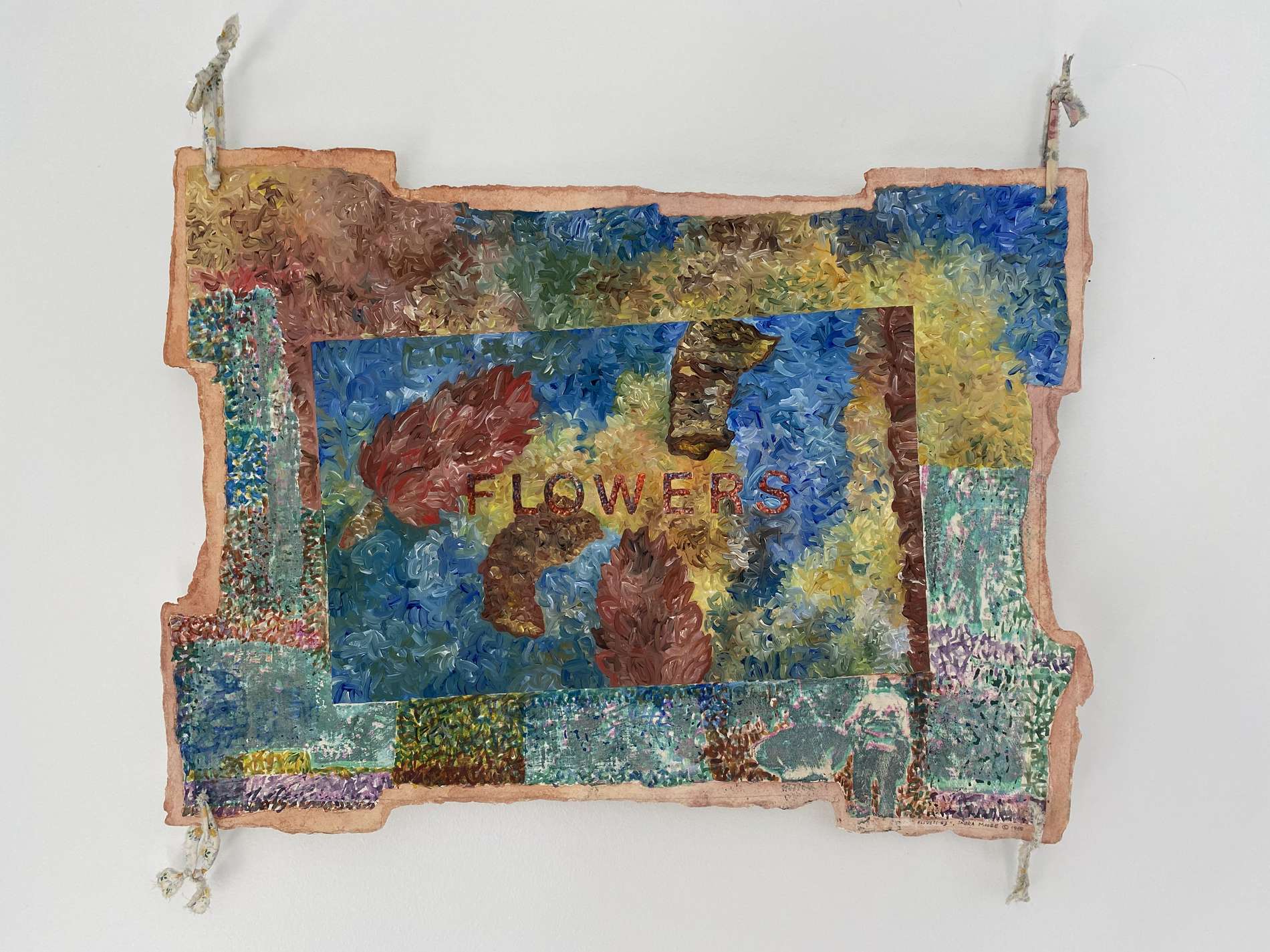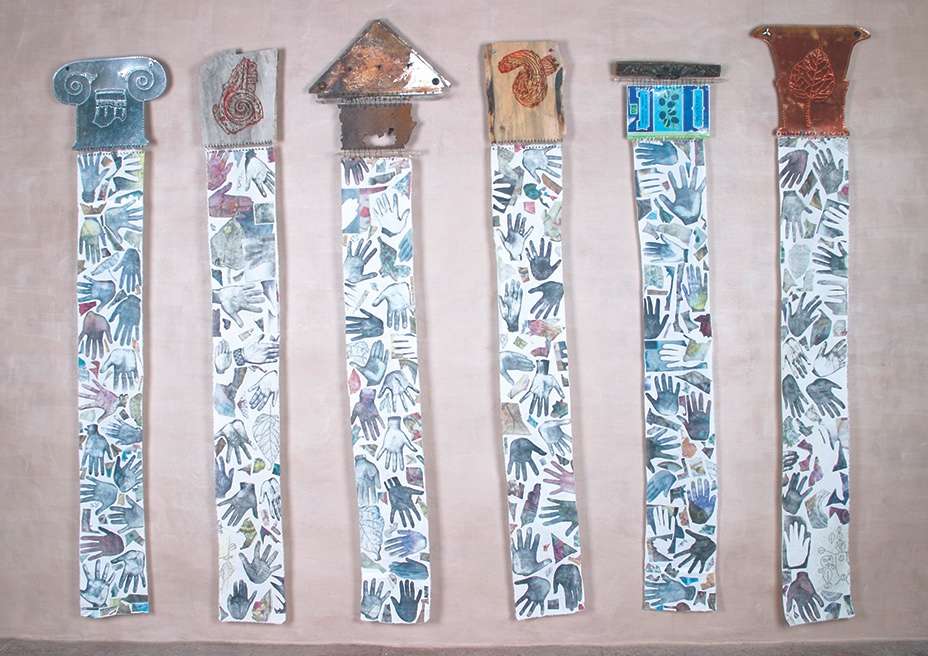 Gladys Apron #2, Sabra Moore, 1985. Oil of gessoed paper with wood, 24" x 24".
notes notes, Sabra Moore, 1982. Accordion-folded color Xerox book in the form of an unfolding journal meditation, 8½"x 7¼" x ½", 36 pages unfolds to approximately 20'. Collection: Museum of Modern Art (MoMA).
Gladys Apron #1 (Gladys Apron window installation), Sabra Moore, 1985. Oil on gessoed paper with wood, 24" x 24".
4/Tells (Akin series), Sabra Moore, 1989. Set of four books in various formats relating to Moore's grandmothers & aunt within a box. Collection: Franklin Furnace Archives
 
Woodsman/Tent Cloth (Place/Displace series), Sabra Moore, 1992. Laser transfer print on cloth, watercolor, beads, wood, plastic gun, 35" x 52".
Woodsman (Place/Displace series), Sabra Moore, 1992 .Oil on gessoed paper with laser transfer, beads, plastic gun, juniper wood frame, 32" x 52".
 
Gladys Apron #3 (Gladys Apron window installation), Sabra Moore, 1985. Color photocopy on archival paper, wood, morning glory vines, 24" x 24".
Flowers # 3, Sabra Moore, 1988. Oil on gessoed paper, string, 15 ¾" x 21".
Palm Trees with Capitals, Sabra Moore, 2000. Trees: laser transfer prints on cloth; capitals: found metal, copper, wood-burning on wood. Each tree approximately 76" x 11".
Artist Statement
I am a Texas-born artist currently living in New Mexico. My work is based on re-interpreting family, social, & natural history through the form of painted & sewn wall works and sculptures and artist's books. My work is a kind of personal archaeology; I see myself as a "literate" granddaughter who has synthesized the quilt-making/storytelling traditions of my rural grandmothers into new forms. I usually paint in oil on gessoed paper or wood and often incorporate found materials such as rusted metal or re-used cans. These found materials add resonance to my work and are part of its content. I often include texts, sometimes as a word play and on occasion, a story. The words can be imprinted or written by hand. Even if the text or content is difficult or provocative, I seek to arrive at harmony. I want to find ways through artmaking to achieve resolution and balance.
I resided many years in New York City before moving to New Mexico, and have exhibited extensively in New York City, Canada, Brazil and New Mexico. I am committed to the idea of placing artwork within a social context and have worked with feminist/political art groups towards that end. Working with other artists or with members of the community has long been a part of my art practice. This can take the form of inviting friends to send me words or bits of materials that I incorporate into my art-making, or through organizing collaborative women's exhibits based on specific ideas, or through working with school children, as I have done in New Mexico, to create large-scale outdoor public art painted tile mosaics. 
 
- Sabra Moore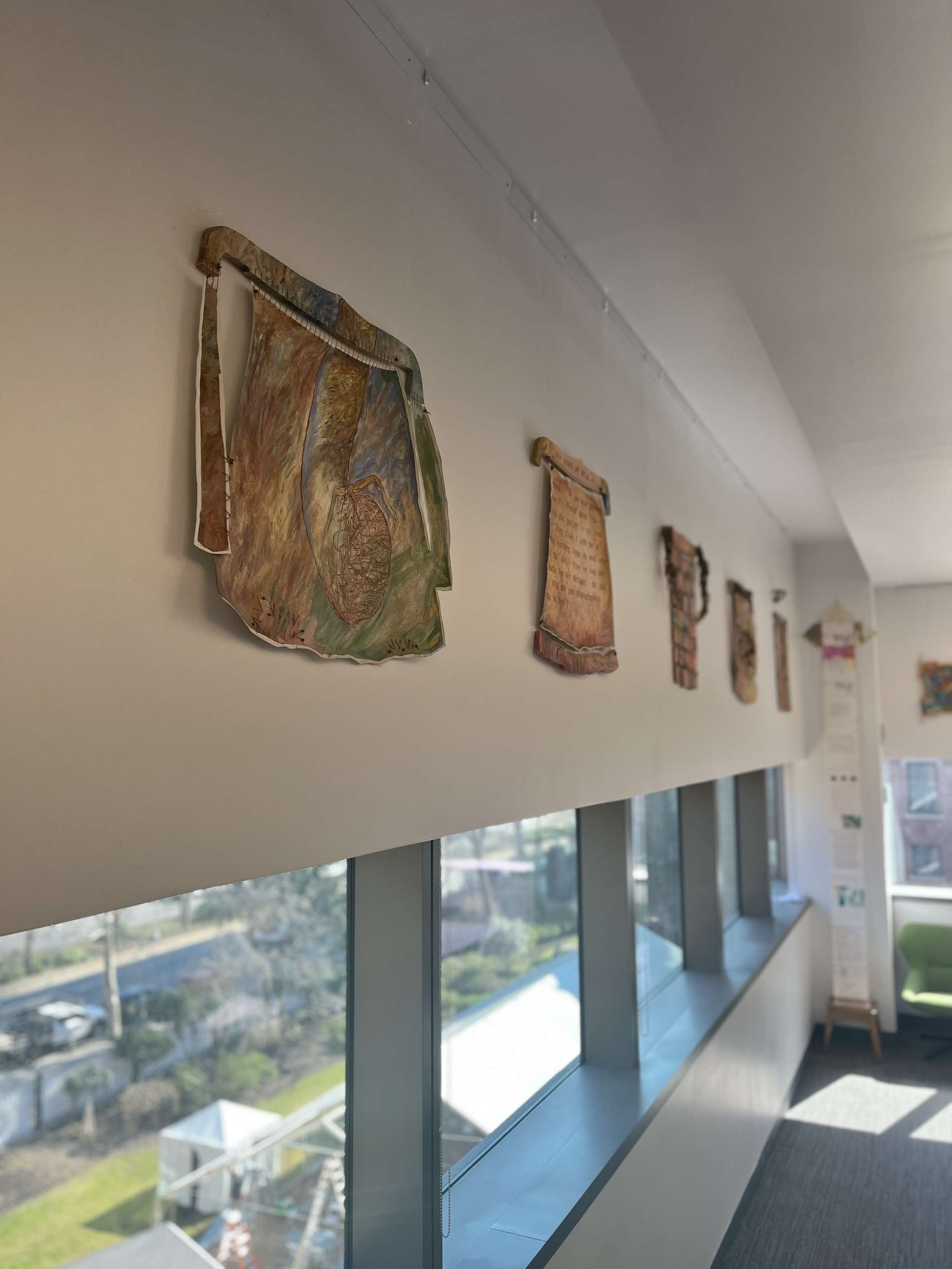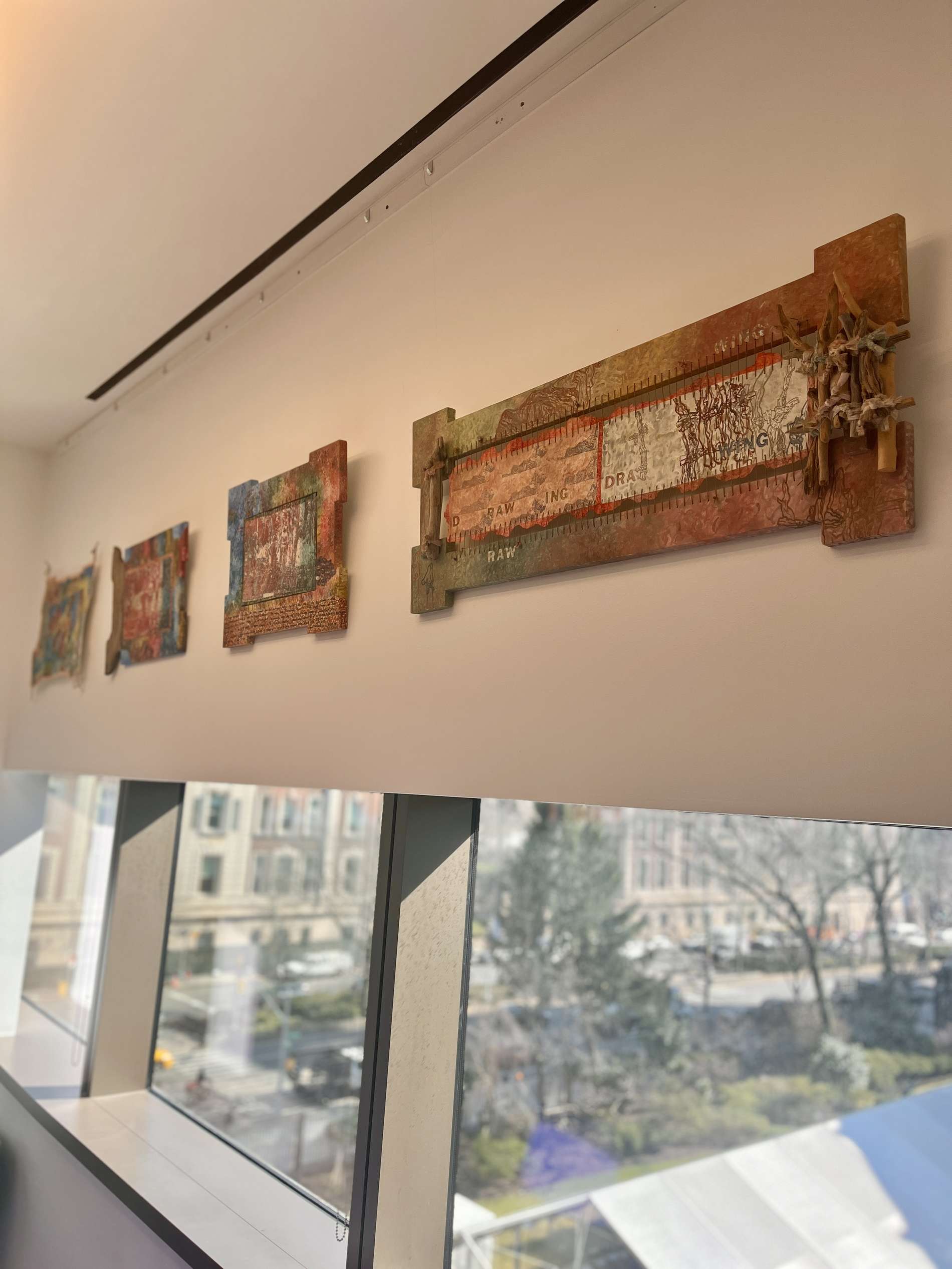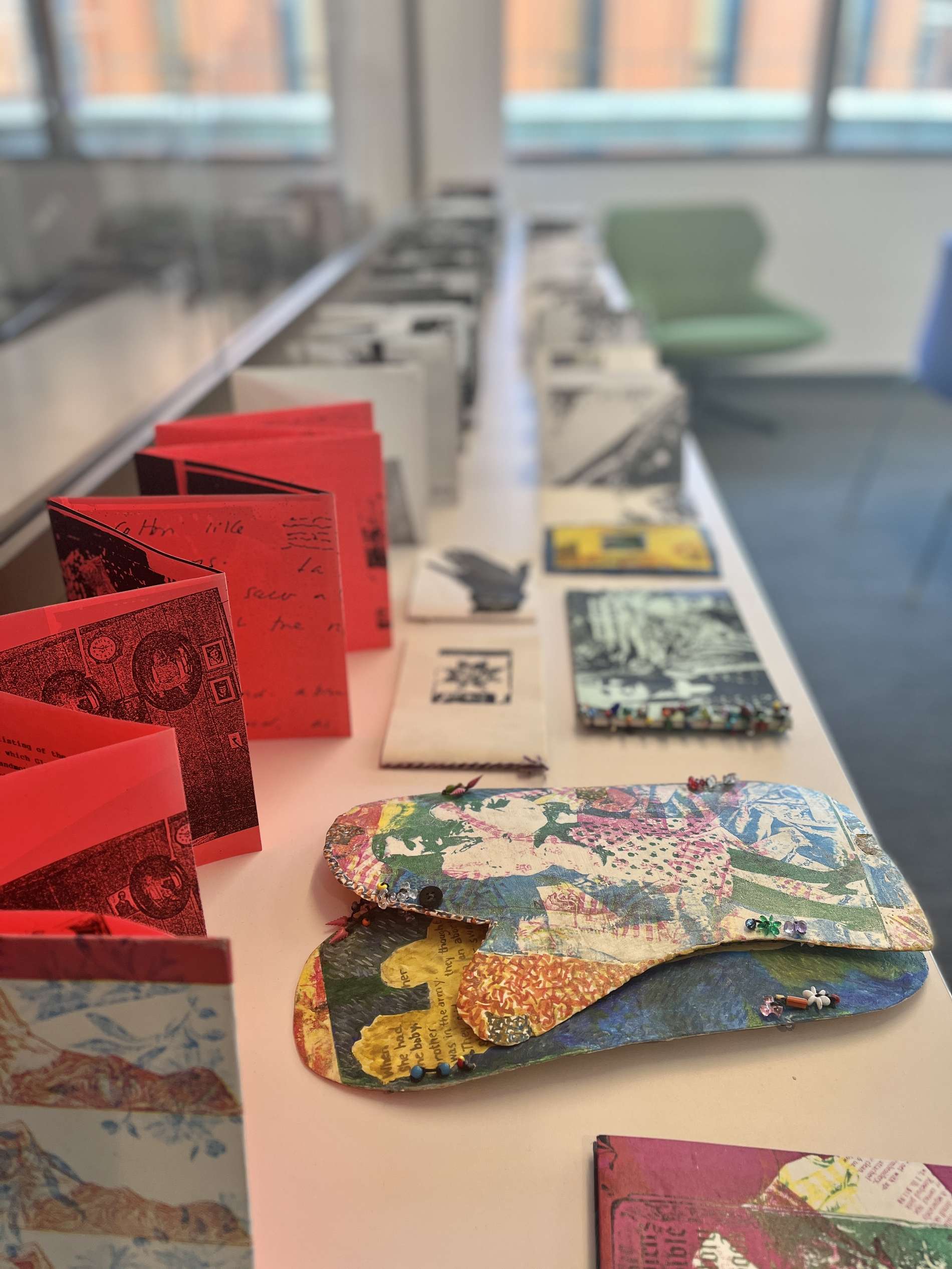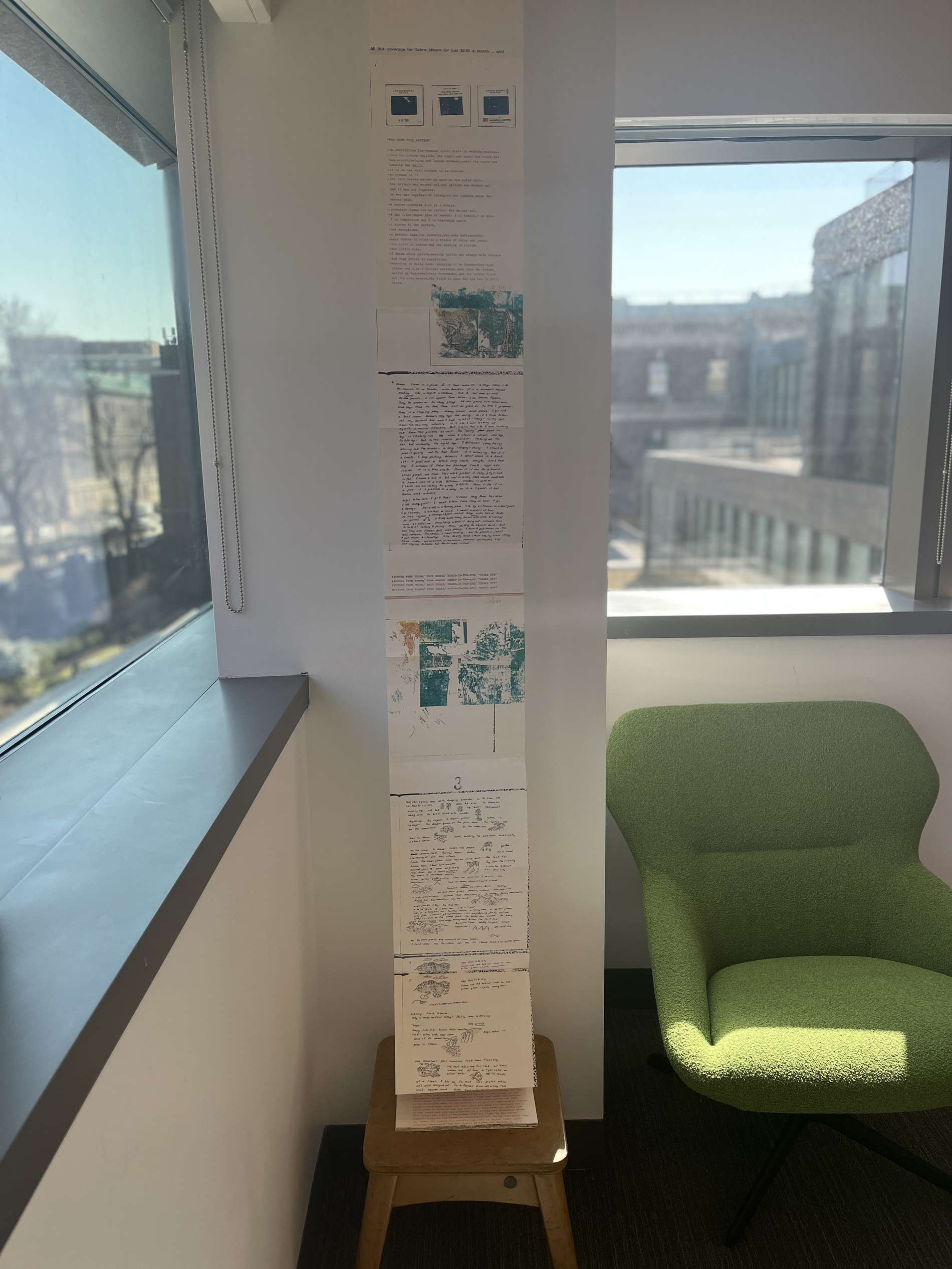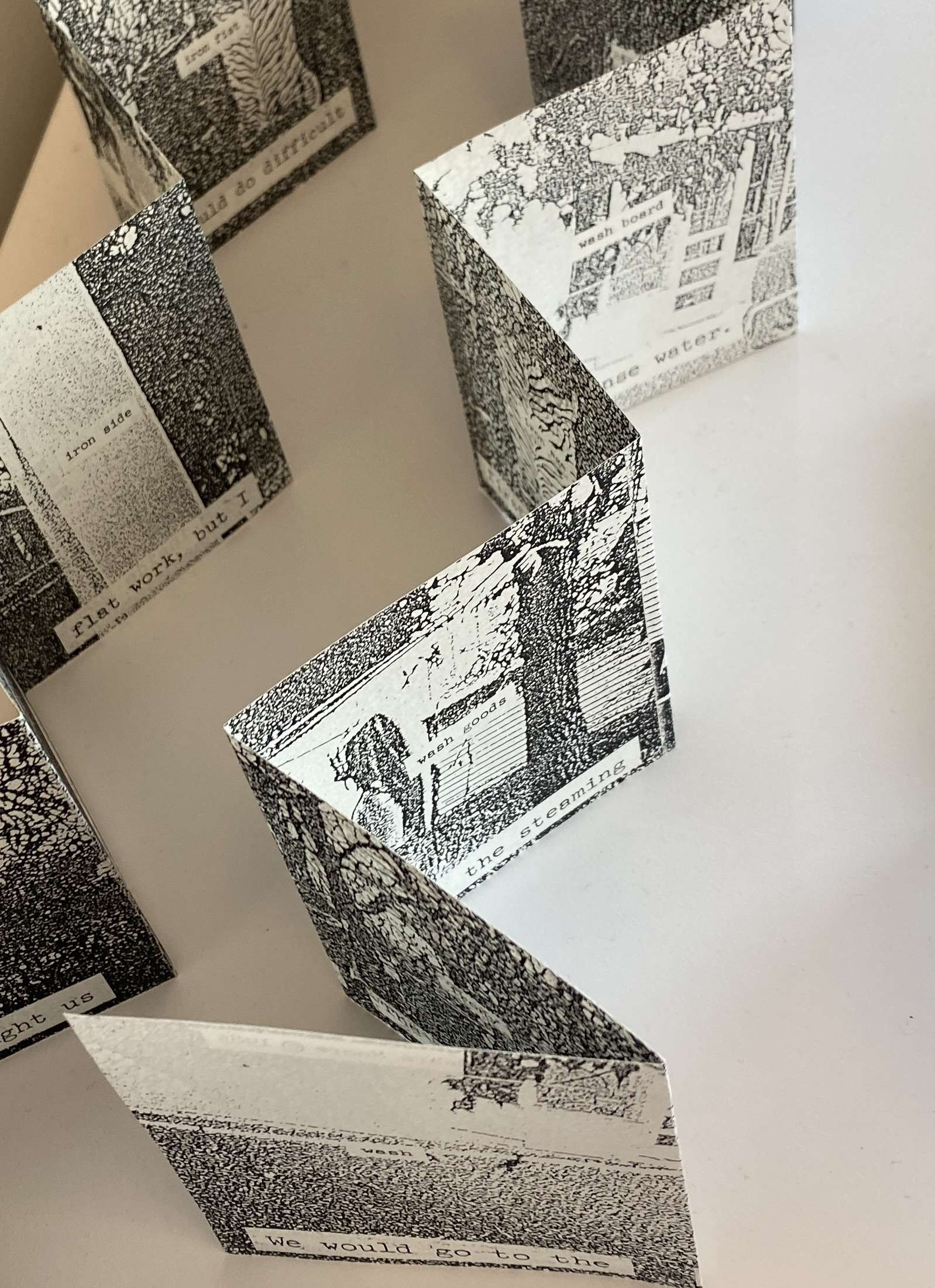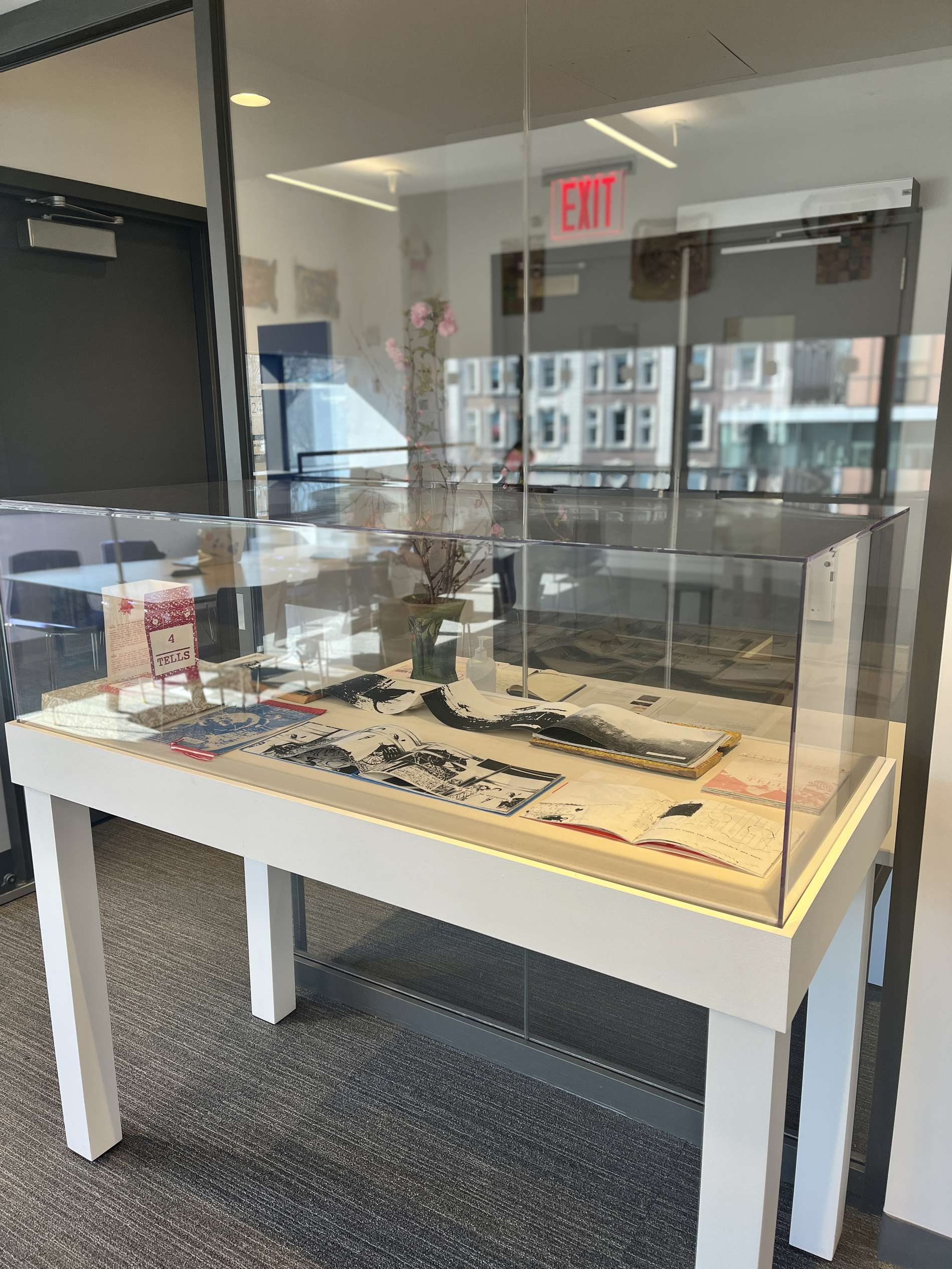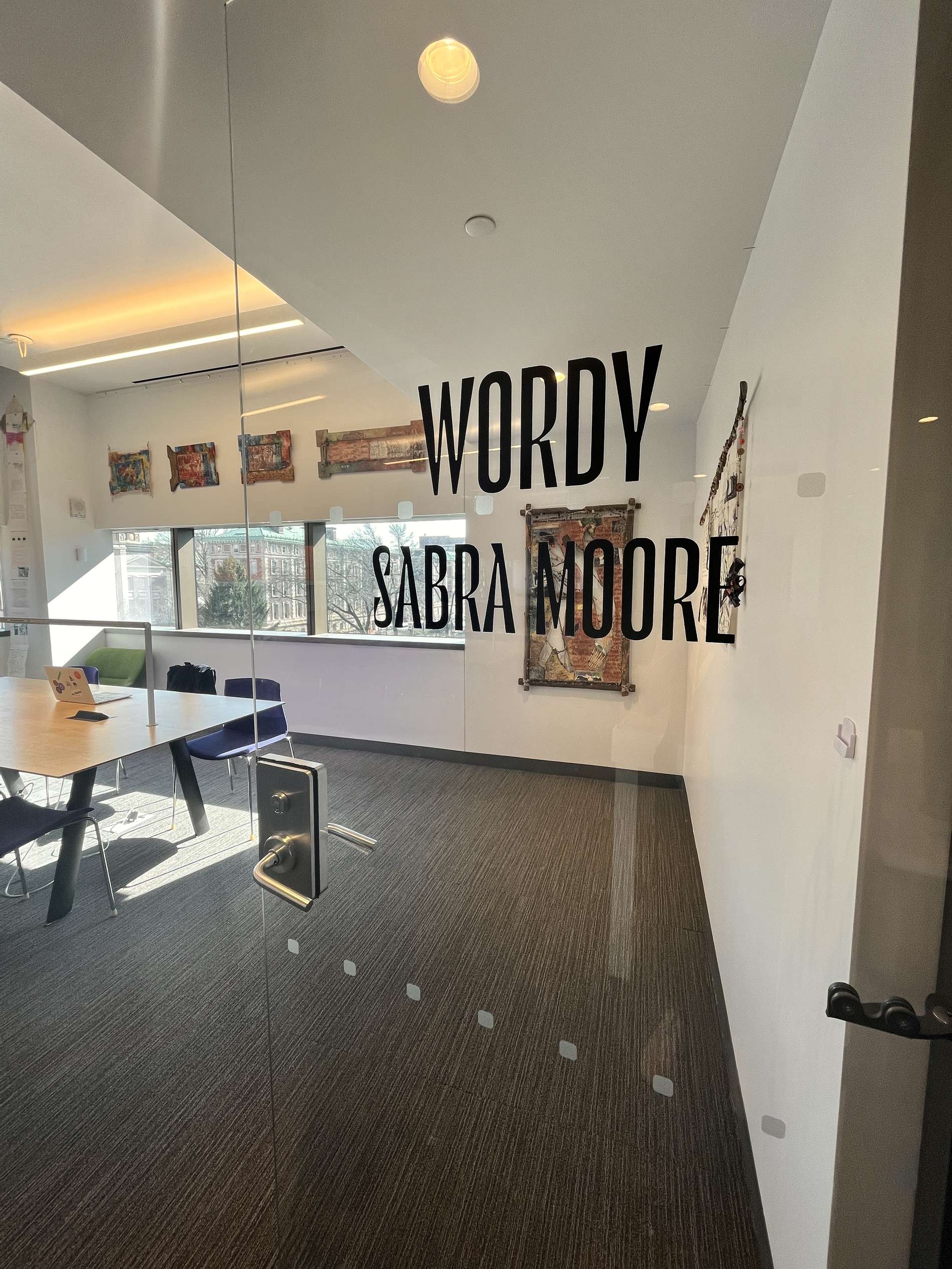 Art for the Future
WORDY connects with Art for the Future: Artists Call and Central American Solidarities at Tufts University Art Galleries, open January 20 - April 24, 2022. Art for the Future: Artists Call and Central American Solidarities focuses on the seminal Artists Call Against US Intervention in Central America, a 1984 series of shows, performances, and actions in response to the Reagan administration's funding of the counterinsurgent Contras in Nicaragua and genocide of indigenous Maya peoples in Guatemala.
Growing out of the friendships, solidarity networks, and political organizing amongst artists and activists such as Daniel Flores y Ascencio, Lucy Lippard, Doug Ashford, Leon Golub, and Coosje van Bruggen, the campaign resulted in exhibitions, performances, poetry readings, film screenings, concerts, and other cultural and educational events in over 27 cities across the United States and Canada.
As part of Art for the Future, the Barnard Archives are loaning the Reconstructed Codex, a collective work created by Sabra Moore and nineteen collaborators (with artwork by Emma Amos, Frances Buschke, Camille Billops, Josely Carvalho, Catherine Correa, Christine Costan, Colleen Cutschall, Sharon Gilbert, Kathy Grove, Marina Gutierrez, Virginia Jaramillo, Kazuko, Sabra Moore, Helen Oji, Catalina Parra, Linda Peer, Liliana Porter, Jaune Quick-To-See Smith, Nancy Spero, and Holly Zox) to Tufts. The Reconstructed Codex is a part of Sabra Moore's papers at the Barnard Archives. Moore made color Xerox copies of the Codex, which are now in the Brooklyn Museum and MoMA collections, as well as her papers at Barnard.
Art for the Future Programming:
Lucy Lippard Keynote + Opening Reception
Thursday, January 27, 2022, 6 – 8:30 PM 
Online
Art for the Future Closing Artist Roundtable & Book Release Party
Saturday, April 23, 2 – 4 PM 
Aidekman Arts Center / Medford
A fully illustrated catalogue published by Inventory Press & Tufts University Art Galleries is available.
Related Archival Collections
The Sabra Moore NYC Women's Art Movement Collection documents Sabra Moore's involvement in the Women's Art Movement, Women's Caucus for Art, Women Artists in Revolution, Heresies Collective, and other feminist artist groups based in New York City from the 1970s to the mid-1990s. The collection consists of flyers, publications, artwork, t-shirts, correspondence, photographs, and protest ephemera conceived of, and created by, Moore and her artist colleagues.
Letters about decisions regarding exhibitions, demonstrations, and magazine/newsletter content related to art and feminist organizations compose the bulk of Moore's correspondence. Photographs of Moore and the artists with whom she most often collaborated, as well as the artist activist groups that she participated in make up the majority of the photograph collection. Moore was very actively involved in the Heresies Collective, thus the collection has an extensive number of Heresies Magazines and other documents related to the organization. The collection also includes newspaper clippings announcing exhibition openings and mentioning various demonstrations that Moore helped organize and lead. The collection contains pieces of original art created by Moore in collaboration with other artists and artifacts from Moore's demonstration at MoMA in 1984.
The Connections Project/Conexus Exhibition Documentation and Artwork collection documents the international, feminist art exhibit Connections Project/ Conexus, co-curated by Josely Carvalho and Sabra Moore. The collection contains documentation of the exhibition's creation including correspondence to and from participating artists, correspondence between the curators, correspondence with exhibiting institutions, design specifications, insurance information, and budgets. It also contains original pieces of artwork including a photocopier artists book and individual artworks.
Connections Project/ Conexus brought together sixteen pairs of women artists from North and South America (Josely Carvalho and Bette Kalache; Liliana Porter and Karin Lambrecht; Faith Ringgold and Luise Weiss; Kathie Brown and Denise Milan; Nancy Spero with Valerie Savilli and Christina Parisi; Kazuko and Ile de Freitas; Sabra Moore and Maria do Carmo Secco; Mimi Smith and Lucia Py; Howardena Pindell and Lygia Pape; Vivian Browne and Alice Brill; Marina Gutierrez and Maria Lidia Magliani; Jaune Quick-To-See Smith and Sopia Tassinari; May Stevens and Vera Café; Mary Beth Edelson and Simone Michelin; Ida Applebroog and Ely Bueno; and Catalina Parra and Anesia Pacheco e Chaves) These thirty two artists produced large-scale artworks responding to themes including birth, body, shelter, race, food, environment, spirit, and war/death. As part of the exhibition, the thirty two participant artists each proposed up to an additional five artists to produce pages for an artists' book, 150 Artists Book.