Location, Hours, & Appointments
Contact Information
Mailing Address: Barnard Archives, Milstein Center for Teaching and Learning 423, Barnard College, 3009 Broadway, New York, NY 10027
Email: archives@barnard.edu | Phone: (212) 854 - 4079
Location
Our reading room is located on the 4th Floor of the Milstein Center for Teaching and Learning   (MCTL), Barnard College, at 3009 Broadway.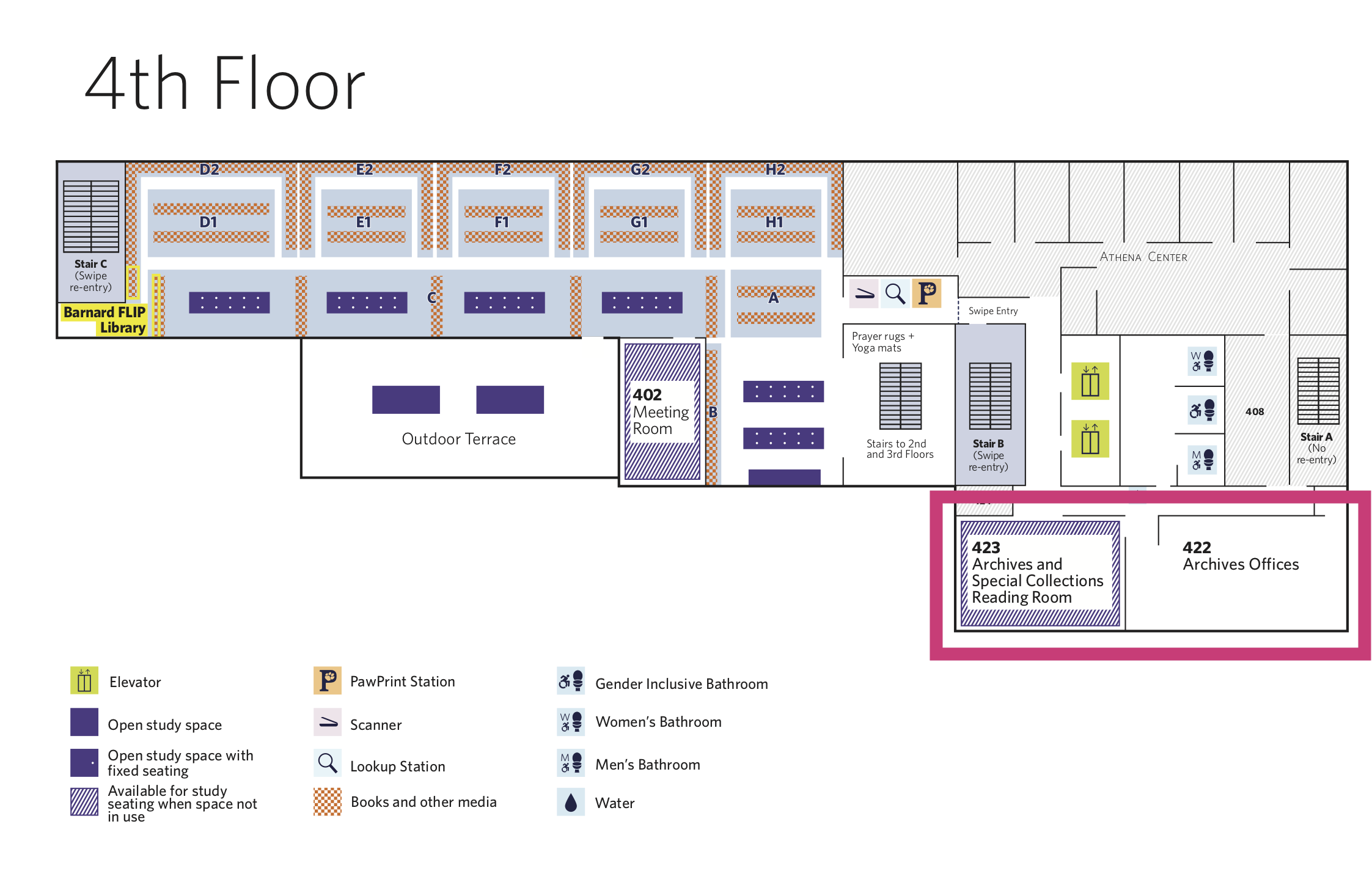 When you enter through the main campus gates on 117th Street, take a right on the brick pathway and follow it to the MCTL, the building to the left of the lawn. When you enter the MCTL, immediately take a right to go down the hallway to the elevators (an attendant's desk and classrooms will be on your right; the double set of doors on the left is to the elevator vestibule). Take the elevator to the 4th floor. When you get off at the 4th floor, make a left. Immediately in front of you is the Archives reading room. This is where you'll do your research.
The nearest subway stop is the 116th Street 1 train. If you need a subway station with elevator access, the 96 street 1, 2, 3, stop has an elevator inside the station house on Broadway with entrances on the south side of 96th Street and the north side of 95th Street. An M104 bus then travels nearby to campus with a stop at Broadway and 116th. 
The Archives and Special Collections are accessible to people with mobility disabilities.
Hours
The reading room is open year round, Monday through Friday, 10:30 AM - 5:30 PM. We are closed for Barnard staff holidays and may have additional closures when full-time staff are out of the office. Please contact us to verify our hours.
We welcome day-of visits whenever possible. However, in order to ensure that we can accommodate your visit, we encourage you to request an appointment at least 2 business days in advance. We are not able to guarantee that we can accommodate every request.
Appointments
Please contact us at archives@barnard.edu at least 2 business days in advance of any planned visits to the Archives, including in your message the collection and boxes you want to use. Our collections are searchable from our Finding Collections page. Please feel free to contact us if you need assistance selecting materials to request or planning your visit to the Archives. ​